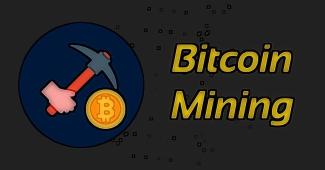 Considering Becoming a Bitcoin Miner? Here's What You Need to Know
Mining Bitcoin is one of the most important concepts in the cryptocurrency field.
For paper money, the national government determines how and when to print and issue money.
A centralized bank or government does not regulate or issue Bitcoin to its users. It's backed by people's belief that it has value.
Bitcoin miners create Bitcoin using special software algorithms to answer and prove math problems. In exchange, these miners are given a fixed number of Bitcoin for their own use.
Bitcoin miners do more than creating Bitcoin. They authorize transactions made on the network to keep it secure. Without Bitcoin miners, there would be no way to guarantee equality among users while continuing to keep the network steady, sheltered, and protected.
Mining Bitcoin is a vital part of the network and anyone can become one themselves. To start, you need the right software and your computer's CPU.
Before making it your new "side job", we've summarized background information for you.
Origins of Bitcoin
We've written a simple version to explain where Bitcoin come from and why people want to become miners.
When a transaction occurs between two Bitcoin users it is published on the Bitcoin network. Miners authorize and secure each of these business operations.
To confirm a new transaction, they are added to the transaction "block" and then miners solve a mathematical "proof".
Each time a transaction is processed and authorized, a Bitcoin miner earns a fee. When bitcoin blocks of transactions are produced, miners contend to solve the proof. The winner is awarded new Bitcoin.
Miners also earn Bitcoin when they create new ones.
This system of solving proofs prevents Bitcoin from inflating. The proofs become increasingly more difficult and it restrains the number of available Bitcoin. This arrangement also keeps the miners motivated to continually run their software.
Now, that we have a working definition, we can discuss how to you can become a bitcoin miner.
Points to Consider
Similar to other job industries, there are apprehensions for you to consider.
The main concern to consider is your profitability and productivity as a bitcoin miner. You want to be sure your energy utilization and hash rate stabilize each other. You wouldn't want your bitcoin costs to be more than what you earn.
Fortunately, the software for Bitcoin miners has improved over the years and have become more efficient. The newer more productive software is well organized and easy to launch.
For a beginner Bitcoin miner, the energy costs to run the software out of your home is unprofitable for what you earn.
This trend increases as the rewards for solving proofs decreases. This is especially prevalent in countries that do not subsidize electricity bills.
This shouldn't deter you from becoming a Bitcoin miner and making money using bitcoins. However, consider the cost of running the software before you decide to mine.
Types of Mining Hardware
With today's computers, you will already have the hardware to be a Bitcoin miner or can easily set it up. For beginner miners, buying additional hardware isn't necessary.
If you are looking to make a profit out of mining or are serious about it, you need to buy the necessary software to stand out.
Application-specific integrated circuit (ASIC) miners are the most efficient and high-speed hardware that is specifically designed for Bitcoin miners. It has a substantial investment cost; however, it has the potential of returning your initial bitcoin investment and turning it into a profit.
Popular ASIC hardware with high ratings includes BITMAIN and AntMiner.
If you're just beginning, it's advised to buy used hardware until you can put aside money for a brand-new program.
As mentioned earlier, the mining profitability is decreasing while the proofs difficulty is increasing and the hardware becomes more expensive.
Take the time to deliberate the cost and profitability before starting your Bitcoin mining project or career.
Consistent Mining Work
If you need consistent mining work, consider joining a bitcoin mining pool or look into cloud mining.
A mining pool combines Bitcoin miners' resources and divides their hash rate to split the profits. This corresponds to the number of shares you provide to help solve a proof. Bitcoin mining pools emerged as the proofs became so hard for solo miners to solve.
To join a mining pool, research the different ones that are available, as it can affect your earnings. Popular ones include BTCC, Slush Pool, Antpool, and F2Pool.
Cloud mining lets users purchase mining contracts by the gigahash rate. Miners hire themselves out other users.
Just like a mining pool, study the subject before joining one.
Different Types of Mining Software
Using Bitcoin mining software is necessary to connect you to the blockchain.
Essentially, the software gives you the work and you submit it when you're done. This is then communicated to the blockchain or pool you belong to.
The better software programs will work on any operating system including OSX, Windows, and Linux.
To start off, download Bitcoin Core. This will ensure that your computer is updated to the newest version of bitcoin's network. This also certifies that your computer is on the same network and prevents problems in the future.
If you're on ASIC for mining, your hardware is already up to date on the Bitcoin network.
Cgminer and bfgminer are two free software options if you're PC user.
After choosing and configuring the software on your computer, you'll have to organize the settings and then press start to begin mining Bitcoin.
Quick & Easy Way To Get Started With Bitcoin Mining
Vista
Vista offers a product called Mini Miner which is a combination of both hardware & software, helping people mine bitcoins, right from their home.
Vista is not only changing the game in trading cryptocurrency, but also in cryptocurrency mining with its introduction of the patent-pending in-home mini minor. A first of its kind minor, that can literally fit in the palm of your hand and uses less than five dollars per month of electricity, while mining hundreds of dollars of Bitcoin and other cryptos, and also being ultra-quiet. 
John Williams, the founder of BridgeAdvisorsLLC.net is also a founding member of Vista. You can become too. You just need to have more than one egg in your basket. Mining Crypto & Trading are better than buying Crypto. Both of these can now be done with the world-class company 'Vista'. There are benefits to being the first in a revolutionary new technology.
HashFlare
HashFlare is a range of cloud mining services promoted by HashCoins team, an expert in crypto mining.
It provides cloud mining on the following algorithms:
ETHASH – Used to mine Ethereum
X11 – Used to mine Dash
SHA-256 – Used to mine Bitcoins
Scrypt – Used to mine Litecoins
The working of HashFlare can be understood by the following graphic:
So, if you too are wondering how to become a bitcoin miner, click the link below and get started.